Visit our "How To" page for quick and easy resource videos here!
Recorded Workshops
Academic
Academic Planning (14 minutes): In this workshop, you'll learn more about how to use DegreeWorks and how to create an academic plan for your time at UCI. The academic planning worksheet and course planner (below) will assist you in creating a personalized academic plan after you watch the video.
Understanding your Major: Watch these short videos to better understand the school and major requirements for your major!
How to Use DegreeWorks (5 minutes): Unless you're a DegreeWorks whiz, this video is for you! We explain how to read each section of DegreeWorks and how to be sure you are understanding each part of your degree audit.
Upper Division Writing Requirement (2 minutes): Not sure what to take for Upper Division Writing? Confused about why you can't enroll into a certain writing course? This video explains it all!
Taking Classes over the Summer (11 minutes): Interested in taking classes over the summer but not sure where or how to start? Watch our short workshop on different options for summer classes to learn more about your options!
Welcome to UCI series

Geared towards incoming first years and transfers (though helpful for all!), this workshop series is meant to cover all the topics new students need to be successful and make the most of their time here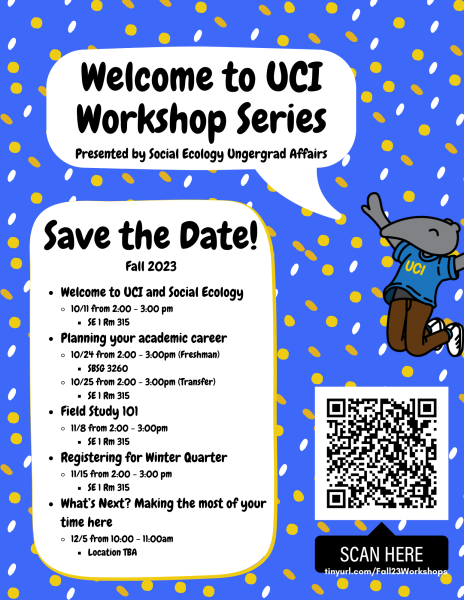 Welcome to UCI and Social Ecology! Covering all the important deadlines, resources, and more to make sure you start the quarter strong.
Planning your academic career: Covering using DegreeWorks, understanding major requirements, resources, and how to plan your time here.
Registering: Covering the General Catalogue, finding your enrollment window, using the Schedule of Classes, registering, and more.
Field Study 101: Covering all things Field Study! Especially recommended for juniors and seniors.
Making the most of your time at UCI: You're wrapping up your first quarter - now what? This workshop is meant to help propel you forward and covers topics such as double majoring, minoring, getting involved in research, studying abroad, helpful resources on campus, and more.
Making the Most of Your Time Here
Transfer 101 Workshop (15 minutes): This workshop and the accompanying Transfer Roadmap were created specifically for transfer students! Watch this to learn about how to hit the ground running and how to make the most of your time at UCI.
Getting Involved with Research (13 minutes): Interested in doing research on campus but not sure how to do that? This video will help you get started!
Applying to Research (55 minutes): The process of applying to research can be daunting for many students. This recorded workshop covers how to identify and apply to research labs, and also has a panel of three students who are actively involved in research on campus.
Double Majoring or Minoring? (14 minutes): Considering adding a double major or a minor but just not sure how to decide? This video will help you work through that process!
A Guide to Graduation (13 minutes): This video will cover all the important topics you'll need about graduation, including where to find information for the commencement ceremony, ensuring you've finished your degree, Latin honors, diplomas and transcripts, and resources for new graduates.
After UCI
Preparing for Graduate School (1 hour, 6 minutes): Join Irice Castro, Assistant Director of Graduate Affairs for Social Ecology as she discusses how to prepare for graduate school, including what you should be doing each year, how to handle letters of recommendation, and more! This presentation also briefly explains the graduate programs in Social Ecology.
Applying to Graduate School: Join Andrea Chung from the Division of Career Pathways as she explains what to consider when applying to graduate school.
Graduate School Panel (1 hour): Listen to our panelists share their experiences about graduate school!