Many questions/issues can be addressed by contacting us on ZotChat and we do strongly encourage students to try ZotChat first, especially for quick questions (prereqs, excess units, DegreeWorks updates, etc.). More complex issues may be better handled through an advising appointment (in-person or Zoom).
Not sure where to start? Check out this chart!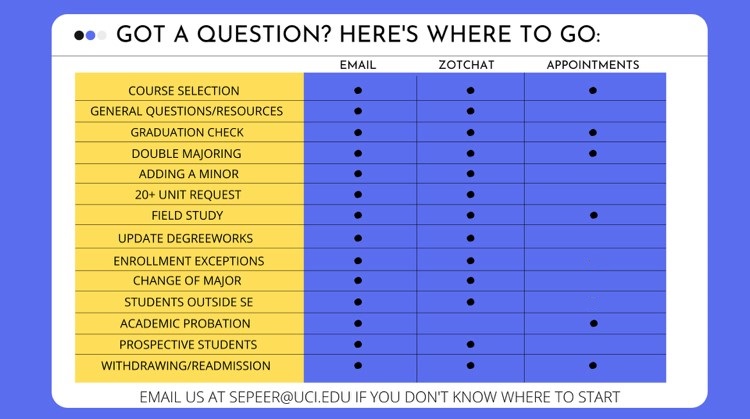 Three Types of Appointments
Zot Chat
For quick or urgent questions, you can chat with us on Zot Chat!
Zot Chat, is a live chat function with our Social Ecology Undergraduate Advisors. Please click the link for the hours and link for Zot Chat.
Any major can chat with us on Zot Chat, for SE related questions.
Same-Day Appointments

Same-day appointments open for booking at 8:30am Monday-Friday. You can book a same-day appointment via the link below or by calling our front desk at 949-824-6861 (NOTE: our front desk is open from 9am-12pm and 1-4pm each weekday).
Same-day appointments are 15 minutes in length and primarily for quick questions. In-person and remote options available. In-person will be in Social Ecology Building 1, Suite 143. For in-person appointments, please check in at the front desk 5 minutes prior to your appointment time.
You can book a Same-Day Appointment using the link below:
Advanced Academic Advising Appointments
Advanced Appointments are 20 minutes in length and are for long range planning, graduate school, complicated issues, and more. For School of Social Ecology majors only.
Click here to see how to get help for your particular question!
If this doesn't answer your question, you can book an appointment below.
*When you log in, the system might default to the counselor that you previously saw. Switch it to "Anyone Available" so you can see all appointment availability.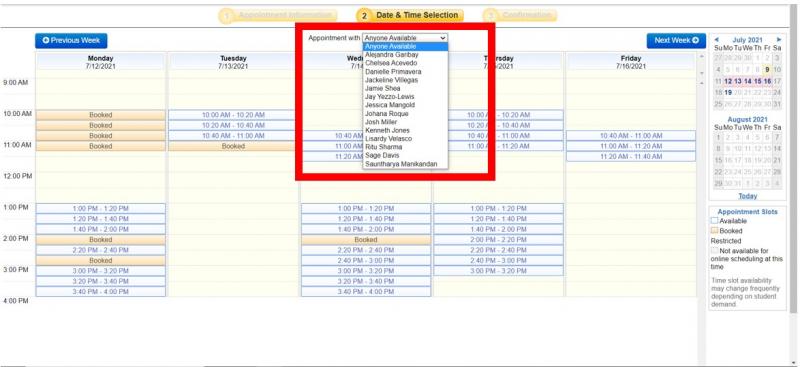 In Person or Remote Appointment Options
You can now select an In-Person appointment or a Remote appointment depending on availability. Depending on the time, you may see In-Person options (person logo) or Remote options (computer logo) or BOTH! (person and computer logo)
Make sure you take note of what kind of appointment you booked. If you book a Remote appointment, you will need to be on Zoom at your available appointment time.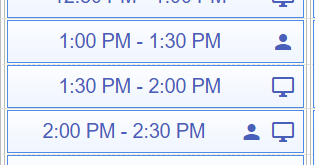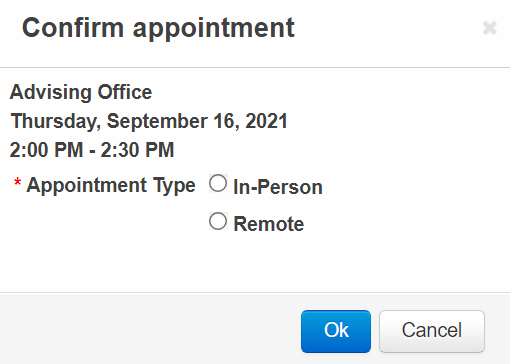 Social Ecology Undergraduate Advising reserves the right to cancel your appointment (if this happens we will email you), transfer your appointment to another advisor, or reschedule (should the need arise).
---


Field Study Appointments
Book a Field Study Appointment
---
Course Scheduling
The School of Social Ecology's Undergraduate Affairs Office provides students with help in planning their quarterly schedule of classes as well as in planning a long-term program of study. We encourage you do speak with an academic counselor if you have questions about your current classes, if you need help planning classes for next quarter, or if you have any concerns about meeting graduation requirements.
In addition to the information available in the Undergraduate Affairs Office, the University maintains a wealth of information on registration and enrollment procedures. The current schedule of classes, enrollment procedures, class registration instructions, fee payment policies and procedures, add/drop policies, and information about course availability is readily accessible to students online. The following resources can be of assistance:
Schedule of Classes (WebSOC)
Web Registration System (WebREG)
Registrars Office
Helpful Hints
When is it a good time to see an academic counselor?
| | | |
| --- | --- | --- |
| | ZOT-CHAT | ADVANCE APPOINTMENT (20 min.) |
| WEEK 1 | BUSIER THAN USUAL | LIMITED AVAILABILITY |
| WEEK 2 | BUSIER THAN USUAL | LIMITED AVAILABILITY |
| WEEK 3 | AVERAGE AVAILABILITY | LIMITED AVAILABILITY |
| WEEK 4 | AVERAGE AVAILABILITY | AVERAGE AVAILABILITY |
| WEEK 5 | AVERAGE AVAILABILITY | AVERAGE AVAILABILITY |
| WEEK 6 | BUSIER THAN USUAL | AVERAGE AVAILABILITY |
| WEEK 7 | BUSIER THAN USUAL | LIMITED AVAILABILITY |
| WEEK 8 | BUSIER THAN USUAL | LIMITED AVAILABILITY |
| WEEK 9 | BUSIER THAN USUAL | LIMITED AVAILABILITY |
| WEEK 10 | AVERAGE AVAILABILITY | AVERAGE AVAILABILITY |
| FINALS | AVERAGE AVAILABILITY | AVERAGE AVAILABILITY |
*The first two weeks of the quarter, our counselors are dedicated to advising students via ZotChat, due to the high volume of quick and urgent questions. Advanced appointments will resume Week 3. Please contact us via ZotChat to get your questions answered in a timely manner.
ZotChat is live when you see this little guy in the corner of your screen!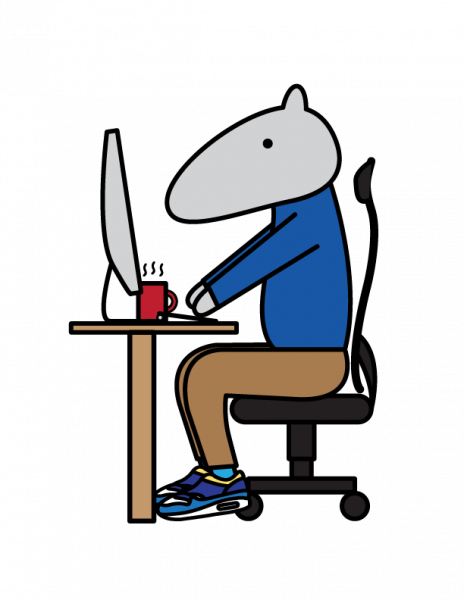 What to Expect:
Who does academic advising?
Academic counselors and Peer Academic Advisors are both excellent resources for academic advising
Peer Academic Advisors are highly trained 3rd and 4th year students that can help you with choosing a major, class scheduling, completing your degree requirements, and more. They are also current Social Ecology students so they know what it's like to be a student.
Academic counselors can help you with declaring a major, class scheduling, developing a four year plan, graduate school exploration, clarifying policies and procedures, and more.
How can I benefit from academic advising?
Get assistance in making academic and career choices
Learn about various majors and minors
Get assistance in goal setting and exploration
Make sure you are on track to graduate
Receive help with developing strategies to improve academic performance
Get questions answered about policies and procedures
Obtain referrals and advice about campus resources
How often should I see an academic advisor?
You should see an academic advisor whenever you have a question about your academic goals and choices at UCI. There may be times when are you feeling confused or overwhelmed or generally unclear about what you are supposed to be doing. We are happy to help!
What can I expect?
You can expect your advisor to:

Understand and effectively communicate the curriculum, the degree requirements, and university and school policies and procedures
Encourage and guide you in defining and developing realistic goals
Provide information and strategies for using available resources and services on campus
Assist you in understanding the purpose of higher education and its effects on your life and personal goals
Monitor and accurately document your progress toward meeting your goals and progress toward degree completion
Help you with decision‐making skills and skills in assuming responsibility for your educational plans and achievements
Maintain confidentiality
What am I expected to do?
You have clear responsibilities in the advising partnership:

Schedule appointments when you need help
Come prepared to each appointment with questions
Ask questions if you do not understand or need clarification
Keep all records and documents and organize them so they are accessible
Clarify personal values and goals and provide your advisor with accurate information regarding your interests and abilities
Be proactive about understanding where you stand in degree requirements
Accept responsibility for all aspects of your academic career

Come prepared:

Bring a list of questions or concerns
Share your goals and educational priorities and your limitations and pressures
Follow up on recommendations
Be ON TIME!
Notify the office at least 24 hours in advance if you need to cancel. We want to help as many students as possible.